Flight of nostalgia
The objects we keep and the stories they tell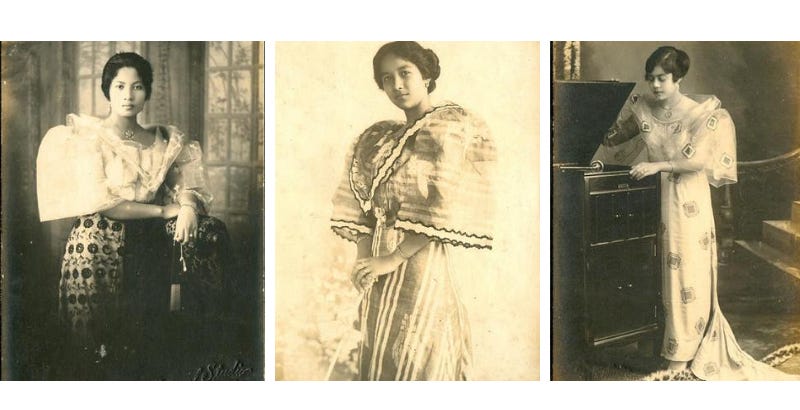 (Old postcards of Filipino women)
I've moved around so much that I have pieces of "me" in many people's homes by now: objects I've either given away or sold for a song. 
I'm only reminded of material goods past when I see photographs of them, which always leaves me sighing wistfully. An intricately carved antique mirror I had bought from an author and respected intellectual went to a dear friend. An antique armoire my daughter inherited from her paternal grandmother is with my sister. I'm consoled by the fact that at least they live in good homes. 
Objects carry memories and so it's never easy to part with them, especially those that remind us of people, places and times we cherish. Storage space businesses thrive because people like to hold on to things that validate lives once lived. 
But when you have to move 8, 206 miles – the distance between Manila and Toronto, according to the Distance Calculator – there's hardly any room in the luggage for sentimentality.  My tight budget allowed me to only ship about six 18" x 18" x 24"  boxes for two people and so I had to stifle my emotions in order to pare down. I also had to remind myself that unlike refugees who often flee terror with only the clothes on their backs, we were moving on our own terms and with some of our worldly goods to boot. 
So what did an immigrant like me bring to my adopted home? A lot of practical stuff and identity signifiers, it turns out. Family photographs are a given and I have them all. The rest are an amalgam of books, prints, trinkets, clothing, jewelry, my daughter's baby clothes and childhood drawings, art, and kitsch whose significance are known only to me. 
Years, decades and centuries from now I don't know where they will end up. My daughter will likely keep some of them and I hope her descendants will, too. They shall be a small reminder that we came from a land that, like Canada, has great, brave writers and great, brave books, creative artisans and crazy dreamers, and yes, a warm, lovely people who I will always hold dear.
Here are some keepsakes: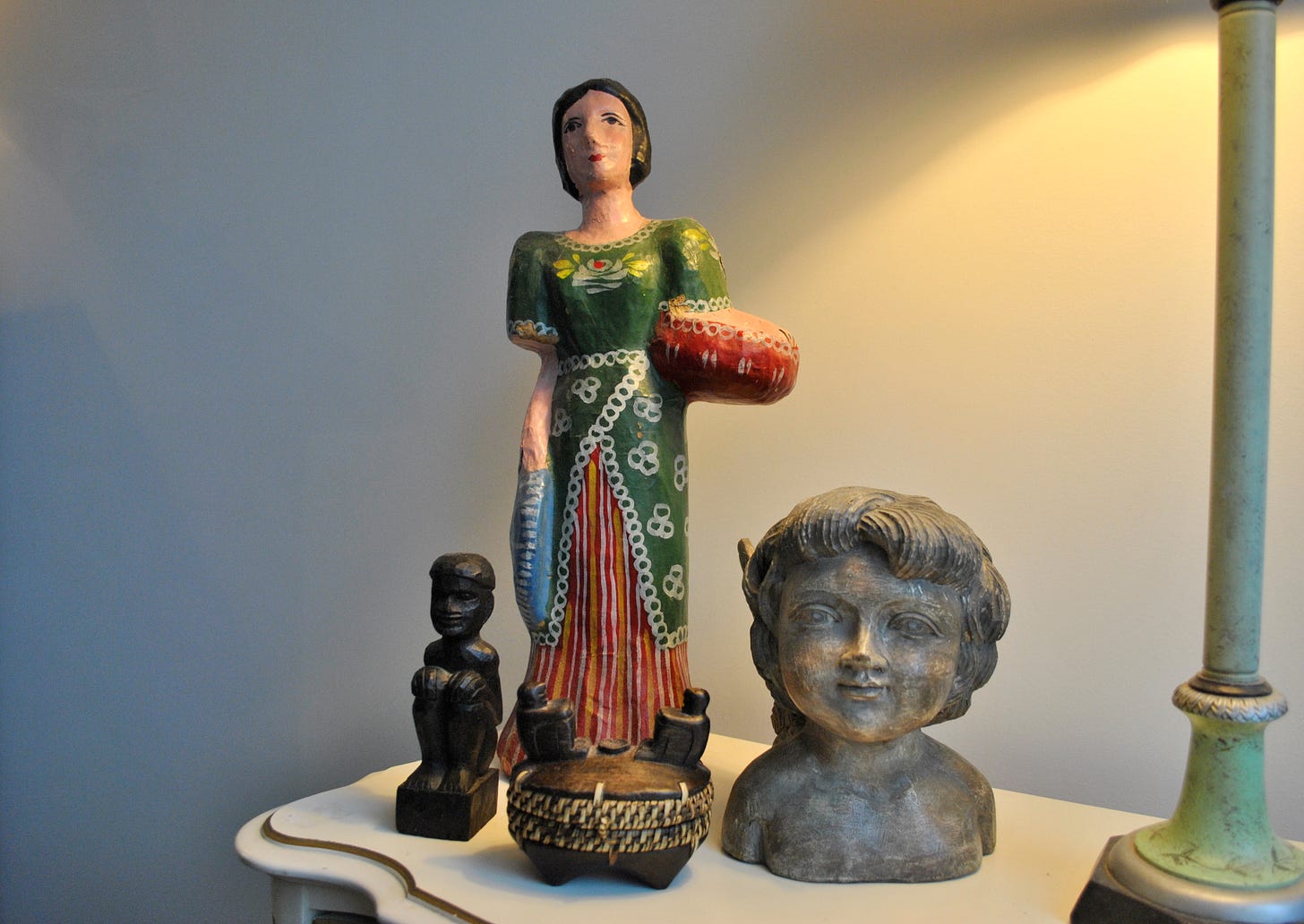 L to R: Bulul, a carved wooden figure symbolizing the rice god or guardian spirit in the culture of Ifugaos, an Indigenous people of northern Philippines; papier mache of a woman wearing a traditional Philippine dress: very folksy; wood carving of two people talking – from Baguio market, northern Philippines; bust of an angel: given to my daughter by her paternal grandmother.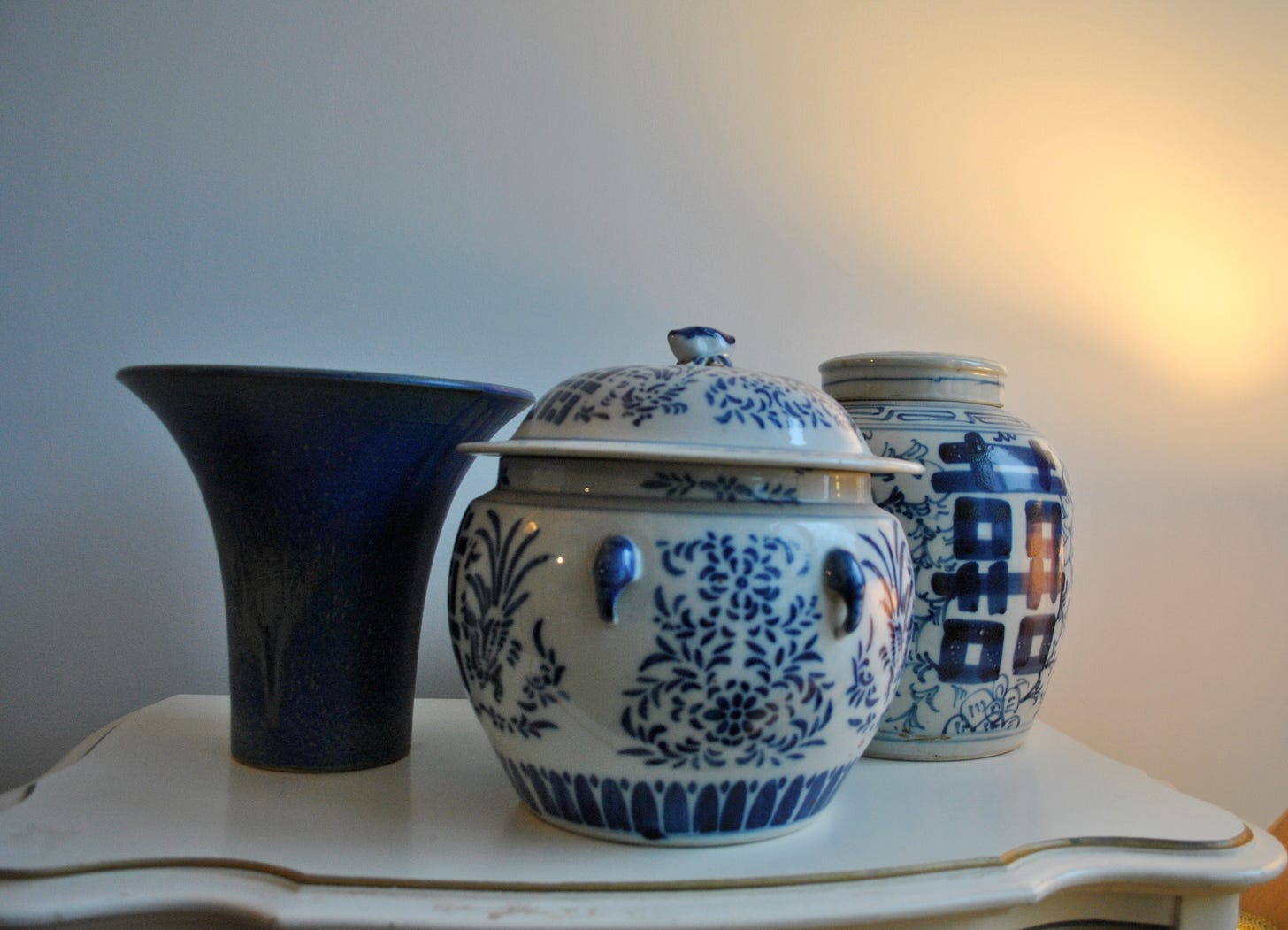 Blue handmade stoneware vase made from Mt. Pinatubo ash glaze, by Lanelle Abueva-Fernando; antique Chinese porcelain "Double Happiness" jars from my daughter's paternal grandmother, who collected and sold antiques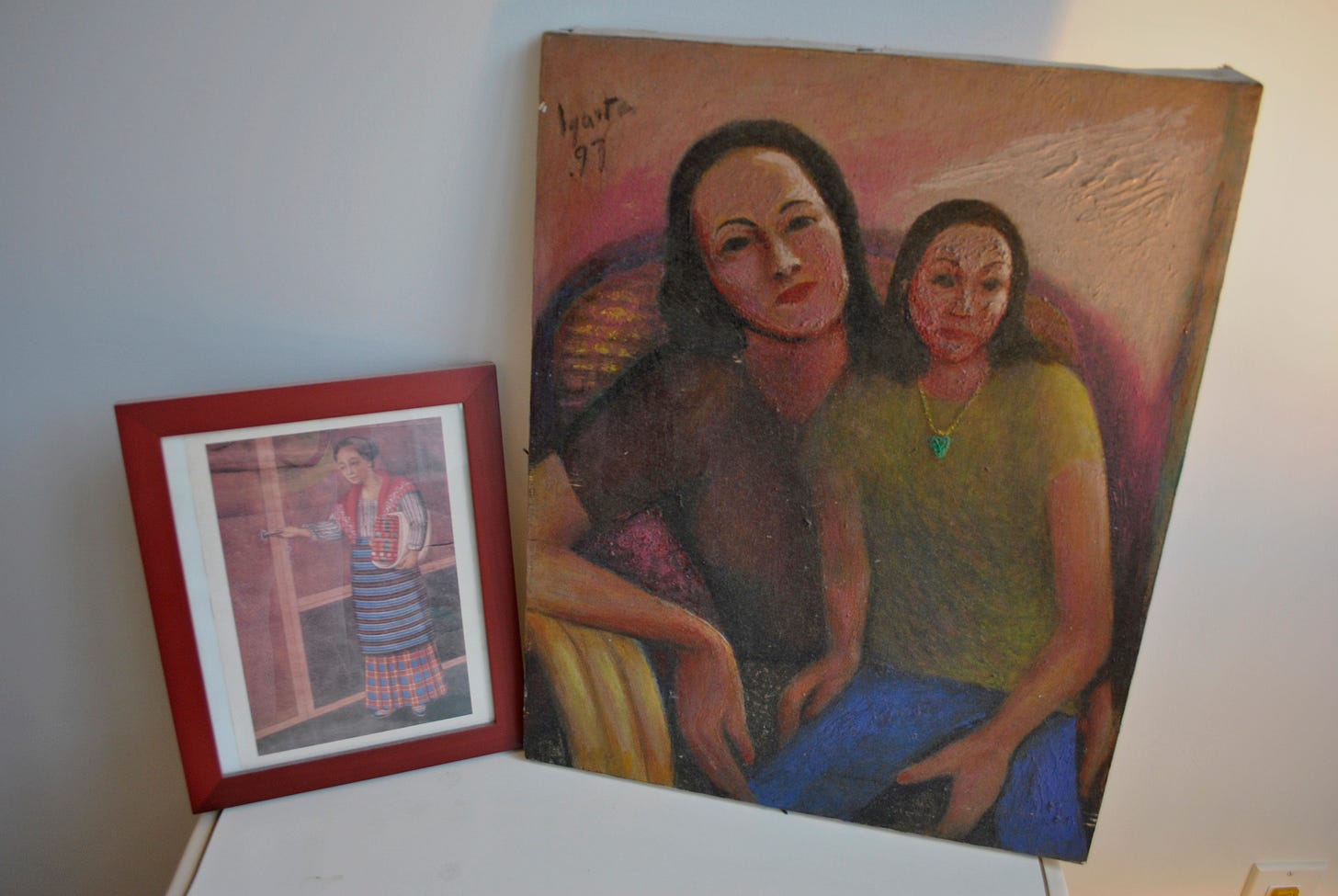 Print of 16th century Filipina librarian; An oil painting of me and my daughter, by VC Igarta, the first Filipino to have his work exhibited at New York' Metropolitan Museum of Art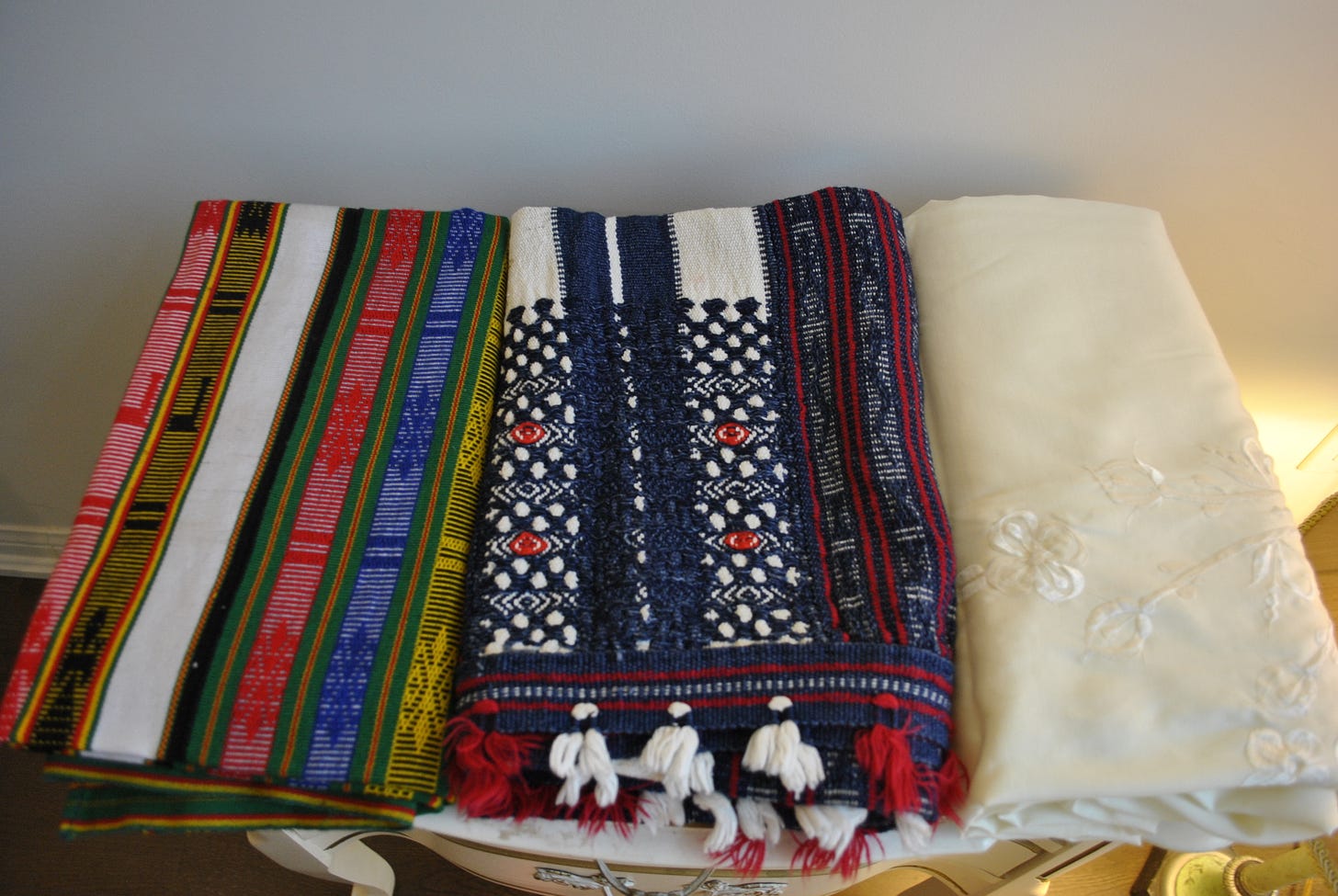 Wraparound skirts worn by Ifugao women in northern Philippines, which is made of three pieces of woven cloth; hand-embroidered table linen made out of pina (pineapple) fabric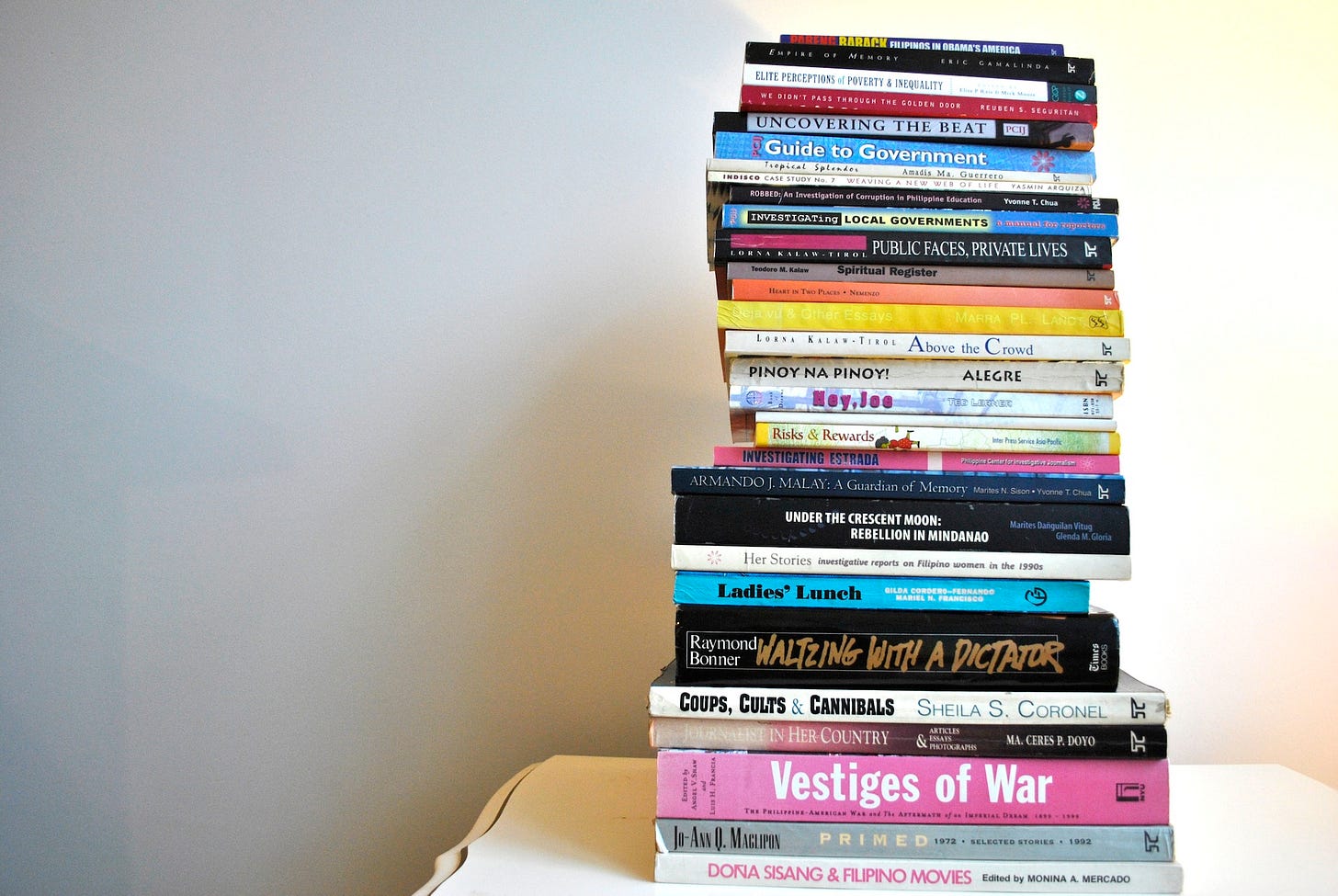 Books by Filipino authors
***
Sharing a story I wrote recently for rappler.com
Job losses highest among visible minorities